We stock a wide-variety of plants suitable for Central Florida conditions from natives to landscaping staples and exotics. Consult our staff for more details on what will best thrive in your neighborhood.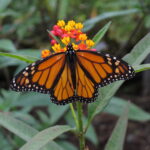 Butterfly Gardening: we have a large selection of hosting plants which are food for the butterflies and nectar plants that attracts the butterflies.  Our staff can help you get your butterfly garden started.
Don't see something you like? Please ask. Our inventory changes constantly and we are happy to give you a courtesy call if we find something on your wish list.
Because our available inventory changes often, the best place to browse is in-store. For the benefit of customers who can't get here whenever they wish, or want to do their own research before arriving, we are pleased to offer this partial list of commonly available material.
| Plant Name | Scientific Name |
| --- | --- |
| Acacia Sweet | Vachellia farnesiana |
| Allamanda Brown Bud | Allamanda cathcartica hendersonii |
| Allamanda Bush | Allamanda schottii |
| Allamanda Golden Butterfly | Allamanda cathartica |
| Alocasia odora | Alocasia odora |
| Alocasia Regal Shield | Alocasia odora 'Alocasia reginula' |
| Arboricola Dazzle | Schefflera arboricola 'Dazzle' |
| Arboricola Trinette | Schefflera arboricola 'Trinette' |
| Azalea Duc De Rohan | Rhododendron indica 'Duc de Rohan' |
| Azalea Duchess of Cypress | Rhododendron indica 'Duchess of Cypress' |
| Blue My Mind | Evolvulus hybrida |
| Cassia Butterfly | Cassia bicapsularis |
| Chenille | Acalypha hispida |
| Coffee Little Psycho | Psychotria nervosa 'Little Psycho' |
| Coontie | Zamia integrifolia |
| Copperleaf Bourbon Street (Dwarf) | Acalypha wilkesiana 'Bourbon Street' |
| Cordyline Black Magic | Cordyline fruiticosa 'Black Magic' |
| Cordyline Florica | Cordyline fruticosa 'Florica' |
| Cordyline Kiwi | Cordyline fruticosa 'Kiwi' |
| Crape Myrtle Basham | Lagerstroemia indica 'Basham' |
| Crape Myrtle Tuskarora | Lagerstroemia indica 'Tuscarora' |
| Crinum Lily Green | Crinum asiaticum |
| Crinum Lily Queen Emma | Crinum augustum 'Queen Emma' |
| Croton AFD5 | Codiaeum variegatum 'Fantasy' |
| Croton Congo | Codiaeum variegatum 'Congo' |
| Croton Magnificent | Codiaeum variegatum 'Magnificent' |
| Croton Mammey | Codiaeum variegatum 'Mammey' |
| Croton Mammey Yellow | Codiaeum variegatum 'Yellow Mammey' |
| Croton Piecrust | Codiaeum variegatum 'Piecrust' |
| Croton Sloppy Painter | Codiaeum variegatum 'Eleanor Roosevelt' |
| Croton Stoplight | Codiaeum variegatum 'Stoplight' |
| Cypress Bald | Taxodium distichum |
| Dianella | Dianella tasmanica 'Variegata' |
| Duranta Gold Mound | Duranta repens |
| Duranta Sapphire Showers | Duranta erecta 'Sapphire Showers' |
| Dusty Miller | Senecio cineraria 'Dusty Miller' |
| Eucalyptus Rainbow | Eucalyptus deglupta |
| Fennel | Foeniculum vulgare |
| Fern Foxtail | Asparagus densiflores cv sprengeri |
| Fig Brown Turkey | Ficus carica 'Brown Turkey' |
| Firebush Calusa Red | Hamelia patens 'Calusa' |
| Firebush Dwarf | Hamelia patens 'Compacta' |
| Firecracker Fern | Russelia equisetiformis |
| Firespike | Odontonema cuspidatum |
| Fountain Grass Red | Pennisetum setaceum 'Rubrum' |
| Gardenia Aimee | Gardenia jasminoides 'Aimee' |
| Gardenia Buttons | Gardenia jasminoides 'Buttons' |
| Gardenia Miami Supreme | Gardenia jasminoides 'Miami Supreme' |
| Ginger Butterfly | Hedychium cornarium |
| Grass Blue Eyed | Sisyrinchium angustifolium |
| Hibiscus | Hibiscus rosa-sinensis |
| Hibiscus Cooperi | Hibiscus rosa-sinensis cooperii |
| Hibiscus Fiesta | Hibiscus rosa-sinensis 'Fiesta' |
| Hibiscus Panama Red | Hibiscus acetosella 'Panama Red' |
| Hibiscus Red Hot/Fire & Ice | Hibiscus rosa-sinensis 'Red Hot' |
| Holly Bufordi | Ilex cornuta 'Dwarf Burford' |
| Holly Dahoon | Ilex cassine |
| Holly Dahoon Tennesaw | Ilex cassine 'Tensaw' |
| Honeysuckle Cape | Tecoma capensis |
| Indian Hawthorne | Rhaphiolepis indica |
| Iris African White | Dietes vegeta |
| Iris African Yellow | Dietes bicolor |
| Iris Regina | Neomarica caerulea 'Regina' |
| Ixora Maui Red | Ixora coccinea 'Maui Red' |
| Ixora Maui Yellow | Ixore coccinea 'Maui Yellow' |
| Ixora Nora Grant | Ixora coccinia 'Nora Grant' |
| Ixora Super King | Ixora coccinia 'Super King' |
| Ixora Taiwan (Dwarf) | Ixora chinensis |
| Jacaranda | Jacaranda mimosifolia |
| Japanese Blueberry | Elaeocarpus decipiens |
| Japanese Boxwood | Buxus microphylla |
| Jasmine Confederate | Trachelospermum jasminoides |
| Jasmine Minima | Trachelospermum asiaticum |
| Jasmine Sambac | Jasminum sambac |
| Juniper Blue Pacific | Juniperus conferta 'Blue Pacific' |
| Juniper Nana | Juniperus procumbens 'Nana' |
| Lantana | Lantana camara |
| Lantana Gold | Lantana depressa |
| Lion's Ear | Leonotis leonurus |
| Lirope Aztec | Liriope muscari 'Aztec Grass' |
| Lirope Mondo | Ophiopogon japonicus |
| Lirope Super Blue | Liriope muscari |
| Mahoe Varigated | Talipariti tiliaceum |
| Mexican Flame Vine | Pseudogynoxys chenopodioides |
| Milkweed Giant | Calotropis gigantea |
| Milkweed Tropical | Asclepias curassavica |
| Milkweed yellow | Asclepias tuberosa |
| Mona Lavender | Plectranthus 'Mona Lavender' |
| Muhly Grass | Muhlenbergia capillaris |
| Necklace Pod | Sophora tomentosa |
| Oak Laurel | Quercus hemisphaerica |
| Oleander | Nerium oleander |
| Oleander Petite Pink (Dwarf) | Nerium oleander 'Petite Pink' |
| Palm Alexander | Archontophoenix alexandrae |
| Palm Areca | Dypsis lutescens |
| Palm Bamboo | Chamaedorea seifrizii |
| Palm Bizmark | Bismarckia nobilis |
| Palm Bottle | Hyophorbe lagenicaulis |
| Palm Cardboard | Zamia furfuracea |
| Palm Cat | Chamaedorea cataractarum |
| Palm Chinese Fan | Livistona chinensis |
| Palm Christmas | Adonidia merrillii |
| Palm Coconut | Cocos nucifera |
| Palm European Fan | Chamaerops humilis |
| Palm Fishtail | Caryota mitis |
| Palm Foxtail | Wodyetia bifurcata |
| Palm Pindo | Butia capitata |
| Palm Ponytail | Beaucarnea recurvata |
| Palm Pygmy Date | Phoenix roebelenii |
| Palm Reclinata | Phoenix reclinata |
| Palm Royal | Roystonea regia |
| Palm Spindle | Hyophorbe verschaffeltii |
| Palm Sylvester | Phoenix sylvestris |
| Palm Traveler's | Ravenala madagascariensis |
| Palm Triangle | Dypsis decaryi |
| Pampas Grass | Cortaderia selloana |
| Pandanus Varigated | Pandanus veitchii 'Variegata' |
| Parsley | Petroselinum crispum |
| Passion Vine Corky Stem | Passiflora suberosa |
| Peace Lily | Spathiphyllum wallisii |
| Penta Heirloom | Pentas lanceolata |
| Petrea Vine | Petrea volubilis |
| Pine Norfolk Island | Araucaria heterophylla |
| Pineapple Guava Feijoa | Acca sellowiana |
| Pittosporum Green | Pittosporum tobira |
| Pittosporum Varigated | Pittosporum tobira 'Variegatum' |
| Plumbago Blue | Plumbago auriculata |
| Podocarpus Maki | Podocarpus macrophyllus 'Maki' |
| Podocarpus Pringles (Dwarf) | Podocarpus macrophyllus 'Pringles' |
| Podocarpus Weeping | Podocarpus gracilior |
| Poinciana Royal | Delonix regia |
| Porterweed Blue | Stachytarpheta jamaicensis |
| Porterweed Dwarf Red | Stachytarpheta sanguinea |
| Pot Marigold | Calendula officinalis |
| Powderpuff | Calliandra surinamensis |
| Ruellia | Ruellia simplex |
| Sapodilla | Manilkara zapota |
| Sea Grapes | Coccoloba uvifera |
| Shrimp Plant | Justicia brandegeeana |
| Simpson Stopper | Myrcianthes fragrans |
| Society Garlic | Tulbaghia violacea |
| Sweet Almond | Aloysia virgata |
| Thunbergia King's Mantle | Thunbergia erecta 'King's Mantle' |
| Viburnum Suspensum | Viburnum suspensum |
| Viburnum Sweet | Viburnum odoratissimum |
| Waffle Plant | Hemigraphis exotica |
| Wax Myrtle | Myrica cerifera |
| Wild Lime | Zanthoxylum fagara |